photo courtesy of Snips92
You'd think that with Star Wars Celebration VI just over a week away, that this would be the time when everyone would be taking it easy, maybe finishing up some last minute costume projects and overall conserving our resources for a roadtrip to Orlando? Yeah, not so much!

In fact, it's because of CVI that we had to move the date for the second annual Akron Aeros "Star Wars Night" to early August – and were forced to miss the Akron Children's Hospital Summer Festival that was part of last year's event.
Thankfully, the Akron Aeros were able to get the custom "Star Wars" baseball jerseys approved for this year's game -- with proceeds from the silent auction going to (where else) Akron Children's Hospital.
Once that was settled, it was time for Great Lakes Base, Mando Mercs and Ohio Garrison to once again descend upon Canal Park (Akron, Ohio) for another year of "Star Wars" themed baseball! This year, it was Sheikachika's turn (as Princess Leia) to throw out the opening pitch -- you may remember her "brother" BrianKenobi (Luke Skywalker) threw out the ceremonial fastball across home plate. Once the game got started, it would seem "the Force" was with the Akron Aeros -- as they lit up the New Hampshire Fisher Cats by a score of 8-3.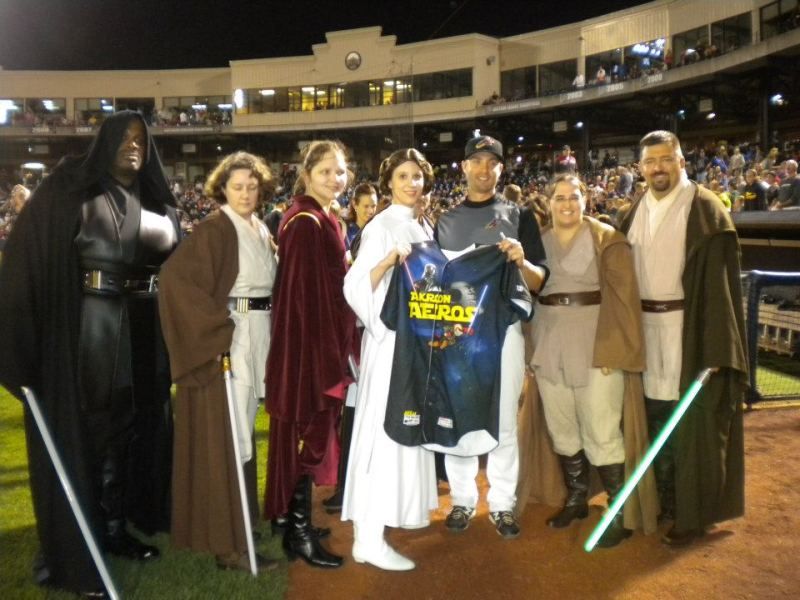 Thanks to some "aggressive negotiations" by Snips92 -- negotiations with a pen, rather than a lightsaber -- we managed to WIN one of the Akron Aeros "Star Wars" baseball jersey auctions. Afterwards, everyone took turns posing for pictures holding the jersey -- it was like our own championship trophy, being passed around the players to celebrate.
And as if the Aeros did not display enough firepower during the game, the team hosted a special "Star Wars Fireworks" show -- all done to selections of John Williams' music from the Star Wars films. Being on the field during the fireworks is sort of the icing on the cake for us.

Several of us stayed in costume for the fireworks, lightsaber dueling with our friends at night, fireworks going off over our heads and the music of John Williams filling our ears and hearts with everything that makes Star Wars just so awesome!
Speaking of John Williams, did you know this year is his 80th birthday? Well, the Cleveland Orchestra does, guess this weekend is a "double-header" for us!